Typically, car dealerships and other people in the automotive industry approach us when they are concerned about poor quality of valeting. Some are worried about poor CSI scores, reliability and efficiency. Most are surprised by the lack of support and management in their valeting departments.
Does this sound familiar?
Call us today for your FREE valet bay assessment.
Grove Autocare are fully committed to providing professional valeting services to Vehicle Main Dealers, Car Supermarkets, Auction Centres, Preparation Centres and Rental Companies within the Automotive Sector.
Our dynamic and fresh approach is leading the way in the contracted valeting industry, demonstrated by our long-lasting partnerships with many high calibre clients.
We will meet our challenging goals by engaging the talent and passion of people who believe there is always a better way.
HEALTH & SAFETY
At Grove Autocare we are committed to providing a work environment that is safe and free from potential risks. To help achieve this aim we are supported by Ellis Whittam who, through their dedicated IOSH qualified Health and Safety Consultant, acts as one of our Competent Persons to ensure we have the measures in place to provide for the safety of ourselves and those around us.
Continuous H&S growth led by regular on-site meetings, assessment of working practices and reviews of all risk assessments, SSOW and associated processes with a qualified H&S Consultant.
Risk assessments and IOSH health & safety certification.
All staff wear the correct protective clothing at all times.
Daily health & safety checks are carried out by team leaders.
Thorough Grove Autocare Inductions are completed by all individuals, with detailed and specific handbooks provided to support all personal with their H&S responsibilities.
Weekly audits are carried out by the Area Manager.
All staff adhere to Safe Systems of Work (SSOW).
All chemicals and products are recorded and stored correctly.
All chemicals are provided by registered suppliers, with regular review of hazard data sheets and COSHH assessments.
Implemented and robust policies, procedures and arrangements relating to health and safety legislation, which are regularly reviewed and updated.
EQUIPMENT & INSURANCE
We provide all necessary equipment required to clean your vehicles. We also manage the maintenance, servicing and repairs of all onsite equipment.
For your peace of mind Grove Autocare Ltd provide all necessary insurances including public liability, employers liability and motor insurance.
Our public liability cover is for £5 Million for property material and damage. Our employer's liability cover is for £10 Million for each individual claim.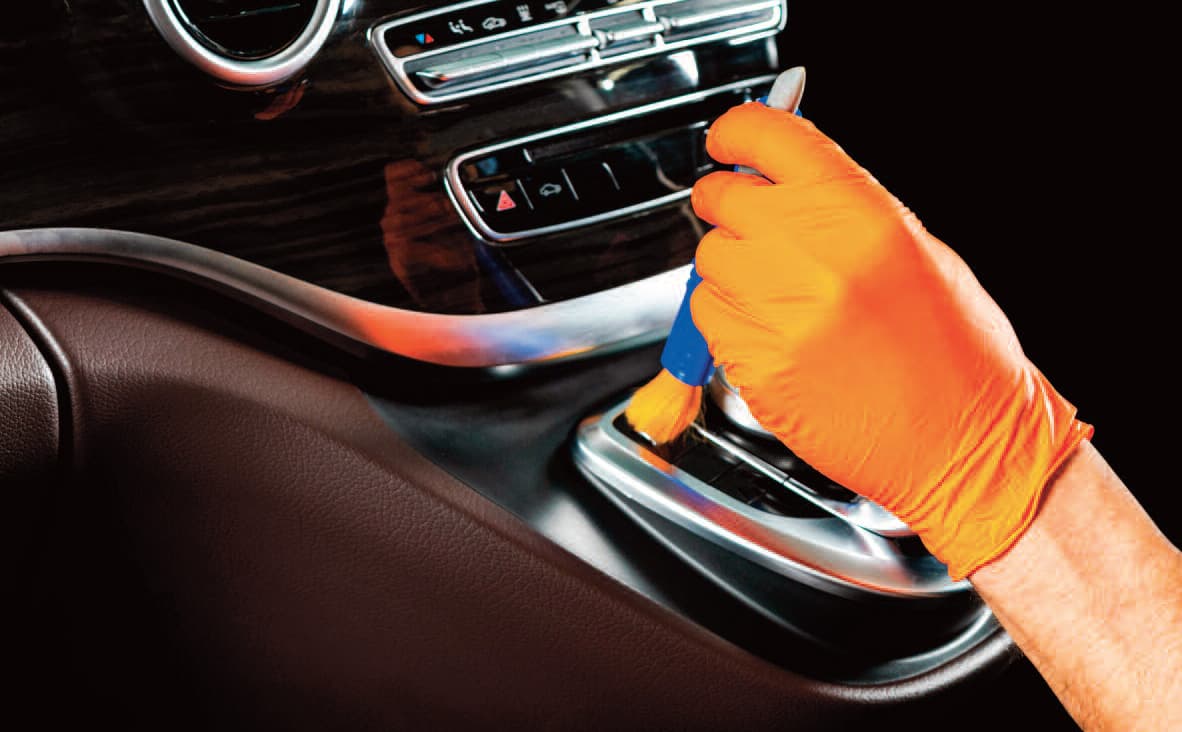 GROVE PAPERLESS SYSTEM (GPS)
The online booking system that we use has been designed and built by car valeting specialists, with the aim to increase efficiency and ensure the booking process requires minimal user input, whilst having complete real-time control.
Real-time Booking
Valet Bay Console
Automatic Invoicing
Customer Satisfaction Reports
WHAT OUR CLIENTS SAY…
"We have a consistent professional service, a competitive price and more importantly, excellent quality from the operators who respect the cars and the job."

Porsche Centre, Bristol

"The on-site operatives prepare our vehicles to a consistently high standard… we feel that the level of service provided is exceptional"

Sinclaire Group, Bridgend

"We are very pleased with the standards of valeting and it is great to have an eager and friendly team in our valeting department."

Bassetts Citroën