How to increase your Sales Team's conversion rates
Commercial Car Valeting and how to Vehicle Sales conversion rates
Has it occurred to you recently how your Sales Team and your Valeting Team work together to increase sales? In such tough times, dealerships are under pressure from people delaying buying a car, tightening their belts, or insisting on zero deposit finance deals. 
As such, it's more important now than ever that you keep the sales coming in. Part of creating healthy conversion rates is down to two things;
Showing your vehicles to be the best that they can possibly be

Pushing high profit upsells to bolster profitability
Morale plays a big part in sales. A salesperson who has real faith in what they are selling is primed to exceed their sales targets, month on month. A Valeting Team can not only help give your vehicles a nice, shiny look. A professional Valeting Team helps give the Sales Team faith that they are selling excellent products.
Paint Protection
A great example of how valeting can positively or negatively impact a Sales Team's results is with Paint Protection. Paint Protection is a sealant that will protect a car's paintwork for up to 5 years. It's a great value-adding upsell that can help increase the profitability of the sales department. 
When Paint Protection is upsold, it is usually the Commercial Car Valeting Team that will apply this as they give the vehicle a final once over before the customer picks it up. A client of ours once told us a story about how they would successfully upsell Paint Protection, book a client in but then the job wasn't done properly or, in some cases, at all. 
What was happening instead was that their previous Valeting Team said they did it and sold the Paint Protection on eBay instead! In addition to causing a complaint and a refund, this also affected the Sales Team's confidence in offering it in the future. 
This is just one example of how maintaining a good commercial car valeting operation can underpin the Sales Team's morale and profit margins that you see.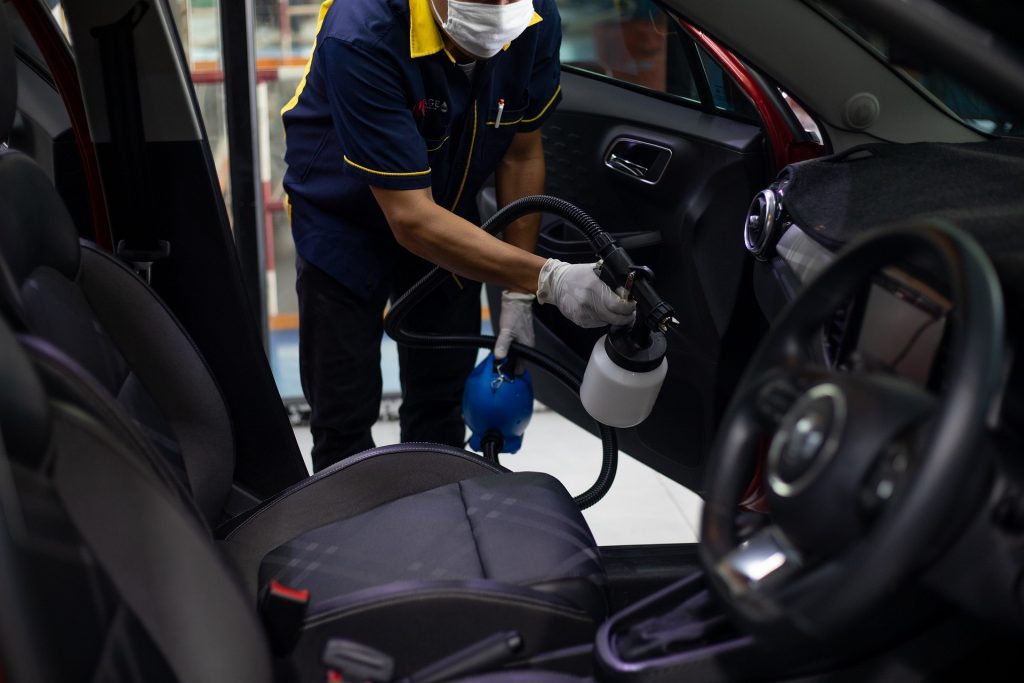 How does Valeting impact sales?
Here's another example. Customers look for 'evidence' when deciding to or not to buy. This is naturally done by everybody for every decision that they make. This is also true for buying a car.
Whilst the Salesperson is giving a convincing pitch about how lovely a car this is, their point is being subconsciously backed-up by how clean the car is. This could be because the Customer specifically notices how nice & clean the car looks. This can also be simply that they don't spot anything messy that takes away from the Salesperson's message, which is great too. 
Management, Valet and Sales holding each other accountable
So how do you make sure that your Sales and Valet teams are pulling in the same direction? 
Open communication between each team, who all take responsibility for the part they play in keeping your dealership thriving.
Management Team –

Hold the Sales Team accountable for both cars sold but also profit margins made

Sales Team –

Take responsibility for hitting targets & providing regular feedback, including when they do a great job

Valet Team –

Taking responsibility for the jobs that they do and the level of detail required 
A lot of it is just about helping people see how they impact others. A few simple habits each day or week can make all the difference. Here are some good ways to make sure that this happens
Who's responsible for what? 
First, it's really important to make sure everybody knows the part that they play. A profitable dealership has a series of teams that really take ownership of what they do:
Management

– They want to commit to doing all they can to support the Sales Team & Valet Team. Managing the team and giving coaching.

The Sales Team –

Will commit to reaching targets on the number of Sales, Gross Profit and Upsells made. It's important that they keep an open dialogue with the Valet Team about anything the

Valet Team

can do better.

Valet Team –

The Valet Team on their part needs to show that they have done everything that they were asked. This is usually in the form of good quality control checks and checklists, which are regularly assessed.
Getting everyone talking to each other
A great way to help make sure that this works well is to have regular feedback between teams. Meetings aren't intended to be a blame game. Accountability meetings give open, honest feedback to help hold each other accountable. Examples that can be really useful include:
Management Team

hold the Sales Team accountable to their Sales Targets and provide support

Sales Team

hold the commercial car Valeting Team accountable. Giving feedback to the Valeting Team about what's working well and what could be done better 

The Valeting Team

needs to make sure that they are communicating with the Management Team and Sales Team
What would this look like? What form would this take?
This could take the form of a daily or a weekly catch-up meeting. The purpose is that everyone has a cup of tea, openly exchanging information with each other. It could be as simple as that. 
This could also be a recorded thing that's actually kept on whatever CRM system you happen to be using. KPI tracking helps keep everybody, including managers, in check. 
The idea is that everybody is pulling toward the same goal and by keeping each other in the loop about how one department affects the other, this is a lot easier to do. 
A Commercial Car Valeting Team that you can count on
We know that the right Valeting Team can not only help increase the number of cars that you sell. They can also your profit margins by upselling value-adding items like Paint Protection. Through working with car dealerships right across the country, and so have excellent experience in what helps make a successful Sales-Valeting relationship.
We love getting feedback from our clients and so we work transparently to make it very easy for them to see what we do for them.
Grove Autocare is transparent in the way that we work, providing regular feedback and openly itemizing precisely what we have done every day. If you're looking for a commercial car valeting team that will actively help you reach your targets, we would love to help.
Please get in touch with us on our Contact Page or feel free to speak to our colleague via  24/7 web chat for an immediate response. We are looking forward to speaking with you. Feel free to follow us on LinkedIn for regular updates