Car Valeting Services Quality Control Checklist
Three Steps to Keeping Your Cars Spotless this Autumn and Winter with Our Quality Control Checklist
As the seasons have changed and brought with it the colder weather, it's time to reassess how to keep your vehicles in tip-top shape at this time of year. You've probably heard of spring cleaning. The colder months bring its own set of challenges when it comes to car valeting services and your company's stock of vehicles.
At Grove Autocare, we are committed to providing car valeting services to companies within the Automotive Sector. We have created a handy checklist to help you maintain the quality of your vehicles over the winter. 
Step One
Here's the most important thing about keeping your vehicles clean during this time of year. You must ensure that they are at a high standard of presentation for your customers. 
In a season of notoriously wet weather, it's important to keep the vehicles dry throughout. Air drying after washing or rain spells is not enough to maintain the quality of clean. Water can leave behind spots, streaks and deposits that can make the vehicle look worse and potentially harm the paint job. Similarly, leaving your stock continually damp and wet may produce mould, which may be difficult to remove.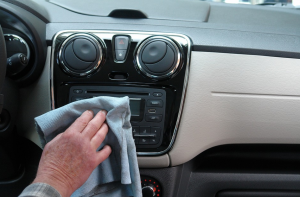 Step Two
During this season, it's important to ensure that nature hasn't affected your cars. Whilst the autumn and winter scenery looks pretty. Fallen leaves in red, yellow and brown, they can be a pesky problem for your vehicles. 
Make sure that you or your car valeting services team are maintaining this problem. They do this by checking the tailgate and lifting it. Make sure that you open the bonnet to see if any leaves have managed to make their way inside. 
Step Three
An easy step that is often overlooked, is simply wiping down your vehicles to ensure it is spick and span. Salespeople tend to spend a lot of time showing your vehicles to customers, so it's important to spend a little time ensuring the exterior of the vehicles have been wiped, allowing it to be in the perfect shape for showcasing. 
Get in touch to discuss car valeting services
By following these three steps on a daily basis, the autumn and winter seasons will have little impact on your vehicles, and you can maintain the high-quality products that customers will love. 
At Grove Autocare, our dynamic and fresh approach is leading the way in the car valeting services industry, demonstrated by our long-lasting partnerships with many high calibre clients. If you are interested in seeing what our car valeting services can do for your business, get in touch today.